This story captured my imagination. I'll tell you why shortly. First, the story.
A certain farmer had become old and ready to pass his farm down to one of his two sons. When he brought his sons together to speak about it, he told them, "The farm will go to the younger son."
The older son was furious! "What are you talking about?!" he fumed.
The father sat patiently, thinking.
"Okay," the father said, "I need you to do something for me. We need more stocks. Will you go to Cibi's farm and see if he has any cows for sale?"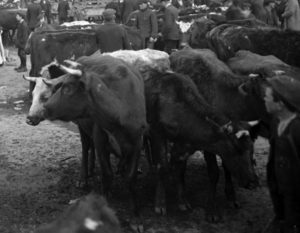 The older son shortly returned and reported, "Father, Cibi has six cows for sale."
The father graciously thanked the older son for his work. He then turned to the younger son and said, "I need you to do something for me. We need more stocks. Will you go to Cibi's farm and see if he has any cows for sale?"
The younger son did as he was asked. A short while later, he returned and reported, "Father, Cibi has six cows for sale. Each cow will cost 2,000 rupees. If we are thinking about buying more than six cows, Cibi said he would be willing to reduce the price 100 rupees. Cibi also said they are getting special jersey cows next week if we aren't in a hurry, it may be good to wait. However, if we need the cows urgently, Cibi said he could deliver the cows tomorrow."
The father graciously thanked the younger son for his work. He then turned to the older son and said, "That's why your younger brother is getting the farm."
When I read this story in an online article, I thought about family businesses and giving. It applies to both.
The family business question:
The question is often which one of the children is ready to step into the responsibilities and challenges of running the family business? One child wants the family business but you wonder if, or even doubt, the business will prosper. Another child seems to have the right skill sets, and maybe even an interest in taking it on.
Tip for knowing if they are ready:
Do any of your children show an interest in the details of running the business?  Are they naturally inclined to develop skill sets that will be valuable to the business?
Answer these questions carefully.
The family business may depend primarily on your interests and skills.  The children may have vastly different interests and skills. If that is so, then consider selling the business when the time is right and invest in helping them start businesses that fit who they are becoming.
If a child does show serious interest, then get them involved as early as possible, so they have a chance to learn from you.
This story is also about family philanthropy.
Parents worry about whether they've raised generous children. They wonder if the children will be philanthropic and carry on a family tradition.
I thought about conversations I have with families around the question of "are they ready?' Sometimes parents say it this way, "will they ever be ready?"
Two tips for getting children ready to give:
Share your giving actions with children as soon as possible and for as long as possible
Provide children the opportunity to learn to give themselves as early as possible and as long as possible
Children learn by doing. Make sure they have as many opportunities to be a part of giving actions as possible. Today children have many opportunities to volunteer for service activities from school to scouting. They will learn even more watching you give and joining with you to give.
Tom Rogerson, a frequent speaker about philanthropy and the next generation, calls it the big train, small train effect.  Imagine two sets of train tracks running side by side. One track has a long train on it with many cars and two engines, while the second is smaller with only one engine. They run side by side, they both carry cargo.
Create a way for your children to be on their own giving path, side by side with you, but smaller. (Read how my own parents modeled generosity for my brother and me at a young age.) Set aside a specific amount for your child to donate every year, trust their decision and help them donate.
Your children learn differently today than we did. They have a large encyclopedia at their immediate beck and call – the world and the internet.  It goes with them everywhere. Take advantage of it and see what they can teach you about the family business and new organizations you never thought to support.
Last Tip
Share your knowledge and experience with your children every opportunity you get. That's it! How does your child surprise you? And What are you learning with them?
Like it? Use it. Share it. Comment Below.