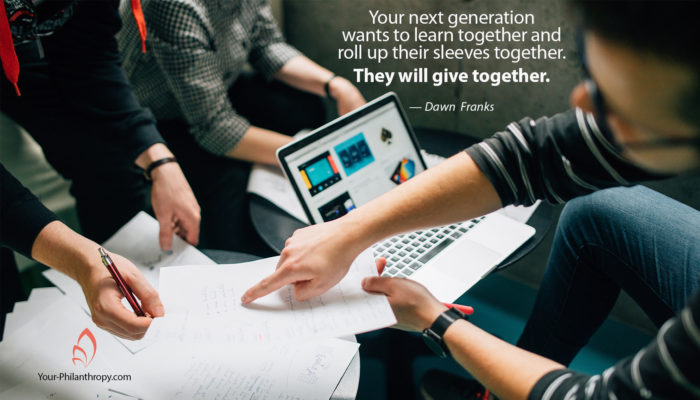 Tyler Morning Telegraph, Give Well Column By Dawn Franks December 3, 2017
A revolution is afoot. The next generation is changing how we give. Out-sized impact is predicted. The next generation of Gen Xers and rising Millennials are not only going to change how philanthropy is done; they will impact every nonprofit.
Our children and grandchildren are revolting against us. They will give differently than we do.
Many of us make donations to organizations and causes in hopes of making a small difference. We give to symptoms, seldom root-causes. Some of us attend fundraisers and sit on boards. Big and small donors, alike, we are slow to pitch in to help when and where it's needed most.
Impact is seldom associated with our giving. Some of us understand the importance of volunteering to get the job done, roll up our sleeves and pitch in. But we don't ask many questions.
In the opinion of our children and grandchildren, we are not asking the right questions.
Philanthropists of the early 1900s, the Gilded Age, set the example we still follow today. Give when asked, attend fundraisers when invited, sit on boards and listen to committee reports, get updates on delivery of services. The focus has been on how much was spent and how many served. Recruit volunteers when work needs to be done.
We're now living in what is termed "a new golden age of philanthropy," a term collectively adopted by writers over the last several years.
But they're not talking about us.  It's about the next generation.
As your family gathers over the holidays or you find yourself at events with young adults, listen to them talk about what matters. Change and impact will be at the top of their list. Pay attention to the kind of questions they are asking.
From our example, they learned giving matters, but they want different information to fuel their decision-making. They're all-in, they're flexible, and they are focused on immediate problems. Where their friends give matters in an entirely different way.  Getting invited to the gala, or their name on a list is less important.
Your next generation wants to learn together and roll up their sleeves together. They will give together.
Youth-led revolutions aren't new, as I was recently reminded while digging through old family boxes that had not been unpacked in 30 or more years.  I came across a stack of carefully clipped newspaper articles about Holland, all written in 1970.
Mostly about touristy places my family visited over a long weekend trip in and around Amsterdam, one very long article caught me by surprise.  It was about the impact of the hippie movement spreading across Europe. According to the article, hippies were hanging out and camping out in mass in Vondel Park, around the National Monument on Dam Square. Amsterdam was at the center of the youth-led, counter-culture where long-haired, blue jean-clad youth began a cultural revolution. It was the rejection of the values and norms of their parents. My mother was concerned about the trip to Amsterdam and made sure to keep us away from Vondel Park.
My family moved back to Tyler after living in Germany between 1969 and 1971. I arrived at John Tyler High school with skirts that were too short and naive ideas about multi-racial friendships, barely accepted at the time. That was the only counter-revolution I brought back from Europe. I arrived in time for desegregation, but it was certainly not led by youth.
This revolution is different. It will be faster. Centered on impact, they want it now in their 20s and 30s. Those with financial resources will not spread their money around. Instead, they will focus on a few solutions and organizations. It's the kind of change that impacts systems, not just the symptoms of the problem.
The authors of a new book, "Generation Impact," have this to say about it. "They are eager to change whatever needs to change, even if it makes other donors, nonprofits, or anyone else uncomfortable – if doing so will help move the needle in a significant way on the problems philanthropy is trying to address."
Revolutions make us uncomfortable. Get ready and fasten your seatbelt. The give well revolution has begun.
Like it? Use it. Share it. Comment Below.
Dawn Franks, CEO of Your Philanthropy offers advising services to families, businesses and foundations to enhance the giving experience and maximize impact. She writes a blog, the YP Journal, at www.your-philanthropy.com . Comments and questions are welcome. Send to info@your-philanthropy.com.