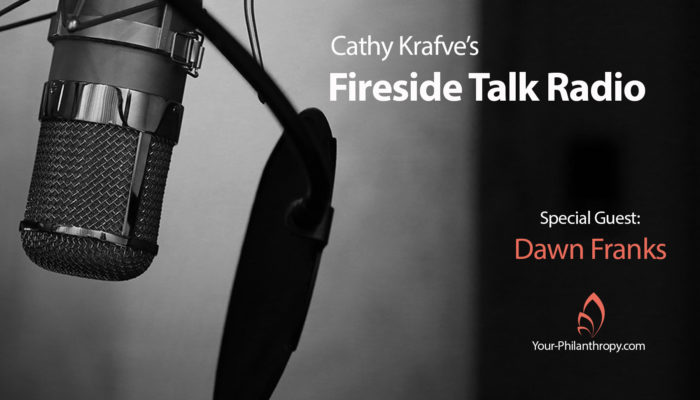 Dawn Franks Radio Interview with Cathy Krafve on Fireside Talk Radio October 25, 2018

Listen above to Cathy Krafve with Fireside Talk Radio as she interviews Dawn Franks about Generational Generosity
Generosity is a natural gift in all humans. If so, the next question is how do we cultivate generosity in our family? Dawn has a lot to say about generational generosity on a recent episode of Fireside Talk Radio.
During the podcast, you will hear Dawn talk about how you can have more joy and greater impact in your giving. Be the unique giver you were designed to be and make sure to download your free copy of Dawn's new e-book Giving Fingerprints today!
Dawn Franks, CEO of Your Philanthropy offers advising services to families, businesses and foundations to enhance the giving experience and maximize impact. She writes a blog, the YP Journal, found in the drop-down menu above. Take a minute to search for a topic that interests you. Sign-up to receive the YP Journal twice a month at this link. Comments and questions are welcome. Send to info@your-philanthropy.com.
Like it? Use it. Share it. Comment Below.