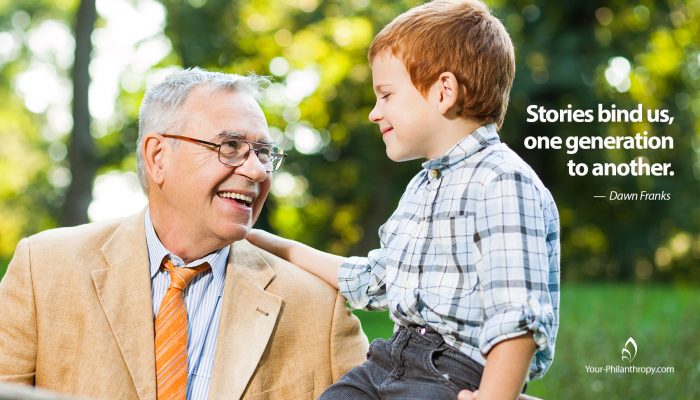 By Dawn Franks, Tyler Morning Telegraph, Give Well Series July 5, 2015
Stories bind us, one generation to another. From parent to child, grandparent to grandchild, children learn what's important to a family through stories. Our stories pass values from one generation to the next. They are the highlighted passages of our family narrative.
I often hear questions about what the next generation will do when giving is in their hands. What will happen when philanthropic funds are left for them to manage? Whether a private family foundation, a donor-advised fund at a community foundation or a business known in the community for philanthropy, they worry the next generation will not continue giving to the same causes.
Stories are one solution to the concern.
As I reflected on my own giving choices, I realized how stories had played a role.
Literacy has always been important to me. The question is why?
When I think about adult literacy, I always think back to a story my dad told several times. He spent a lot of time with his grandparents. He often accompanied his grandmother to the market in his early grade-school years. She needed him to read the names on the cans if there were no pictures. Imagine a 6-year-old happily reading cans and helping fill a basket.
While I never helped my own grandmother in that way, I know I would have happily provided the same service. He had an important role in the family that he's never forgotten. From that story I learned about the importance of helping, and the responsibility of helping your own family. I learned how important it was to be able to read to manage the simplest life tasks.
My dad never said literacy is important. He never suggested I make charitable gifts to programs and organizations that provide literacy opportunities for adults. He just told the story.
My mother shared a different kind of story. She told me about the neighbor next door who had books in her house. She was kind enough to loan her a few, starting a life-long love of reading. Many years later, she worked part time for a literacy organization. She couldn't imagine not being able to do something she loved so much. She never said I should support literacy. She just told stories.
Hidden for many years, those stories still sparked my own giving decisions.
A study conducted with next-generation future wealth holders indicated they are more likely to continue supporting causes important to the family or family business than their elders expected. They might give differently than their parents, but the causes were often very similar or the same. Interview responses indicated they just knew what was important. Stories mattered.
Our problem is most of us believe we're poor storytellers. The truth is our children don't analyze our stories or look for flaws — unless you leave out key information they remember hearing before. And then they love helping you tell the story.
The story becomes a connection from your generation to theirs. It creates pathways for sharing what's important to the family.
As summer heats up and you spend time with children and grandchildren over vacations and holidays, you will have opportunities to tell stories. This is also the time to share why you support different organizations. Connect stories to your why and they'll remember.
In her book, "Whoever Tells the Best Story Wins," Annette Simmons wrote, "Story is a re-imagined experience narrated with enough detail and feeling to cause your listeners' imaginations to experience it as real."
Even if some of our details are not exactly right if they are embroidered with emotion, our listeners feel as if they are there. I can imagine skipping down the aisle in the grocery store reading the names on cans for my grandmother. Yes, literacy is important.
No matter how you feel about your storytelling skills, you can improve with just a few tips.
Tell personal stories that you've experienced firsthand. Short is better than longer, three to five minutes. Let your own emotions show. Describe how you felt. Be willing to retell the story, especially with younger children. Leave openings for them to finish the story for you. Then you'll know they caught the message. That's how families give well.