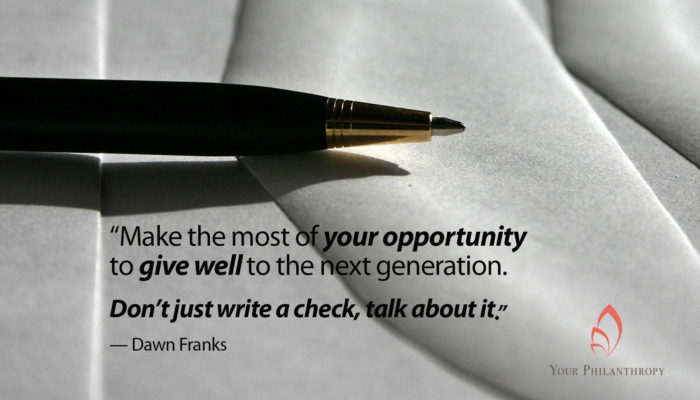 Sifting through the pile, I searched for the envelope from our accountant with all the directions we need to get started on our taxes.
Every year, before the Christmas sales are over, I start seeing advertisements for H&R Block. And every year I push back the thought that I must get started on that chore earlier than last year. For those making decisions that impact their estate, this time of year can be frustrating for more reasons than just the complicated tax forms.
For instance, individuals and couples might be reviewing decisions about estate transfer gifts, commonly called annual exclusion gifts. The law allows an individual to gift up to $14,000, or a couple up to $28,000, to a related or unrelated individual without incurring estate taxes.
Of course, your CPA should be able to help you with the finer details of such gifting. But there are more issues to consider than just the mechanics of making the gift and following all the IRS rules and regulations.
I am familiar with situations where every year children and sometimes even grandchildren receive significantly sized checks from parents and grandparents that are estate transfer gifts. For those who do, perhaps this story will sound familiar.
James Hughes Jr., co-author of The Cycle of the Gift: Family Wealth and Wisdom, tells a story about Adele and Albert, who for many years have been making these gifts to both their children and their grandchildren. Adele noticed there was seldom a response after sending the check. No thank you note, no phone call, just a notation on the bank statement for a cashed check.
Adele and Albert wondered if they had created a sense of entitlement, were family members ungrateful or did the check go to the intended person?
Grandparents tell me they hope their children and grandchildren are learning to be generous. They know the time is coming when they will have a greater capacity to give. But there have been few conversations about giving and generosity. The benefactor hopes their heirs are learning by watching their example.
Sometimes, I believe the benefactor thinks their heirs are mind-readers. The conversations about giving and intent are so uncomfortable, avoiding it is simply the easiest route.
Albert and Adele chose to stop avoiding the conversation with both children and grandchildren. It was then they discovered a whole array of unexpected emotions and outright confusion from the next generation.
One daughter-in-law, raised in a blue-collar family, felt the arrival of the check was like a meteor arriving in their mailbox. Having never received more than a few hundred dollars as a gift at one time, she simply didn't know how to respond.
One child suspected his parents of buying his affection, and another was angry that checks went directly to his children.
A third child had read enough to know that such giving was a regular part of estate planning, and wondered if the gift was just a tax reduction tool for Mom and Dad, no thank you necessary.
Why didn't the children come to Mom and Dad with their questions? When asked why each had a similar response, "It's their business and their money, I would not want to pry. I would appear ungrateful!"
Adele, their mom, is worried they are ungrateful. The children are worried that asking any questions suggests they are ungrateful. No one is talking about it.
Parents who give money, stocks, bonds or property to the next generation were extending the giving nature of an earlier period when they gave time, care, advice and love. Giving material things is merely another step along the way of allowing the next generation to flourish by providing security and increasing their capacity to give.
Obligation and dependence, mixed with generosity, is more complex than writing the check and filing the right tax form with the IRS.
As a parent, the goal is to give and, in turn, receive in ways that enhance growth and freedom. If having important conversations about your intent are difficult, there are resources that can help. Make the most of your opportunity to give well to the next generation. Don't just write a check, talk about it.
Dawn Franks, CEO of Your Philanthropy, offers high touch advising services to families, businesses and foundations to enhance the giving experience and maximize impact. She writes a blog, the YP Journal, at www.your-philanthropy.com . Comments and questions are welcome. Send to info@your-philanthropy.com.