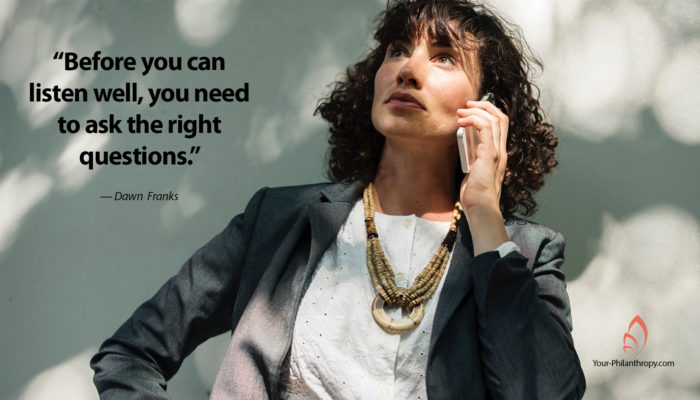 Tyler Morning Telegraph, Give Well Column By Dawn Franks February 4, 2018
"Wait, what?" How many times have you been sitting at a stop light, checking your phone and suddenly you hear the radio announcer say something that causes you to go "wait, what?" I need an easy backup button for my radio — just 30 seconds would do the trick.
Or, you're in a meeting, taking a few notes, thinking about the assignment on your desk you need to finish and you hear something about a change in — "wait, what?" There it is. That need to back up again.
It's the same question that triggered an abrupt halt to speed-reading through my email when a colleague told me about an executive director search. Wait, what? When did she leave? How did I miss that bit of important information?
I raced through my memory checking what I remembered and what was obviously not so clear. It required a follow-up email to verify my memory of the facts. I needed clarification.
"Wait, what?" slowed me down so I could process, gather more information and ultimately make a better decision. I am repeatedly brought up short in a similar fashion as I go about my work with nonprofit organizations and private foundations. Let's skip how often it happens in my life.
I often write about the importance of asking questions so you can be a better donor. Recent articles in the field of philanthropy reinforce taking time to listen to program participants, nonprofits, those who have different experiences, values and opinions. Before you can listen well, you need to ask the right questions.
So, when I discovered the book "Wait, What? And Life's Other Essential Questions" by James E. Ryan I was excited. Here was a list of simple questions that could go with me into any meeting or gathering, professional or personal.
Ryan, dean of Harvard's Graduate School of Education, outlined the questions in a popular graduation speech you can listen to on YouTube.
In case you don't have time to read the book, here's my takeaway.
Ryan suggested there really are bad questions. We're all guilty of the clumsy, poorly worded question.
Sometimes we ask questions that are just disguised answers, as in "Have you ever thought of doing…?"
Sometimes we don't follow up with the next question, or we ask the wrong person.
Before you can listen well, you need to ask a lot of questions.
In his small, quick read of a book, Ryan describes five critical questions and provides thought-provoking examples. He says "Wait, what?" and four other questions are essential in life. I believe they are not only essential, but they are critical to giving well. Each should be in our donor toolbox. The answer to these questions makes us better donors and volunteers.
Here are Ryan's five critical questions that are essential in life and giving.
"Wait, what?" A clarification question to help you understand more.
"I wonder why or if … ?" An exploration question born of curiosity into the why not that can trigger valuable ideas for change and maybe even improve the world.
"Couldn't we at least … ?" Enables us to get unstuck, work toward consensus and agree on direction or strategy. It can lead us out of the mire of disagreement toward progress.
"How can I help?" Honors our instinct to lend a hand while accepting their knowledge and experience. Allowing others to remain the expert in their lives forges better relationships.
"What truly matters?" Gets to the heart of your beliefs and convictions as a donor and focuses on what's most important.
I like what Ryan said at the end of his speech, "If you never stop asking and looking for good questions you will feel beloved on this earth and just as importantly you will help others."
Ryan has a bonus question in the book: "And did you get what you wanted from this life, even so?" I believe giving well is important to many of us. It lives at our core and a part of the answer to the bonus.
The beauty and power of good questions can you help you be a great donor and help you tally what is important in your life.
Dawn Franks, CEO of Your Philanthropy, offers advising services to families, businesses and foundations to enhance the giving experience and maximize impact. She writes a blog, the YP Journal, at www.your-philanthropy.com. Comments and questions are welcome. Send to info@your-philanthropy.com.
Like it? Use it. Share it. Comment Below.