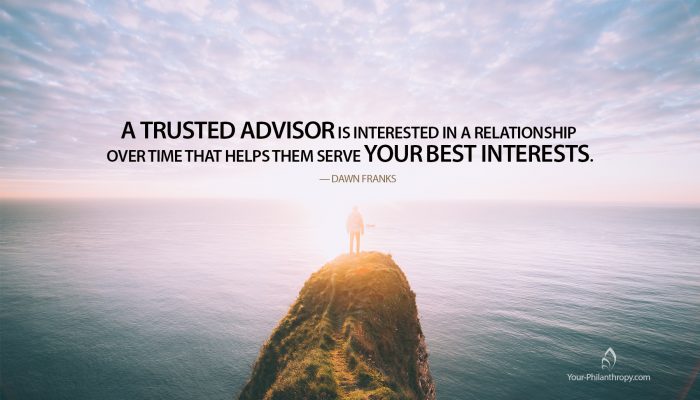 by Dawn Franks, Tyler Morning Telegraph, Give Well Series Sunday, February 8, 2015
"There is one thing common to every individual, relationship, team, family, organization, nation, economy and civilization throughout the world – one thing, which if removed, will destroy the most powerful government, the most successful business, the most thriving economy, the most influential leadership, the strongest character, and the deepest love." According to Steven M. R. Covey, "That one thing is trust."
Leadership guru Covey gave us a glimpse of the cost of trust in his widely read 2006 book The Speed of Trust: The One Thing That Changes Everything.
Covey drives home the point that lack of trust drives cost up. Trust is so critical to any relationship involving money, that I recently asked a variety of advisors what's makes a good advisor. The advisors I queried were both local and from across the country.
Accountants preparing financial statements, investment advisors managing our money and attorneys guiding us through the labyrinth of estate planning – all answered with some form of trust.
Here's what they said. Not only should an advisor have integrity that you can see over time and be knowledgeable in their field they should be humble about their shortcomings – even willing to share their mistakes. A trusted advisor should be open to working with other advisors, either on a team or for a short duration.
Advisors should ask discerning and opinion searching questions. One advisor termed them as risky, willing to lose your business. One advisor told me that when you or I leave his office with more questions than we arrived with, he has done his job. A trusted advisor is interested in a relationship over time that helps them serve your best interests.
In one discussion a financial advisor said she has found the subject of money to be more personal than health issues. She said we need the kind of trust that grows over time. These are all good measuring sticks.
How do you know if you have the right advisor for your needs? Here are questions you can ask them.
First, where is your advisor getting their information and recommendations? Are they based on a good understanding of your situation or is it the best product they have to offer?
Second, ask about the alphabet of letters that follow their name on the business card. More isn't better if they aren't the right ones for your needs. Quick research on the internet will help you decipher the letters ,then you can ask better questions.
Third, does your advisor "eat their own cooking", meaning willing to invest in the same investments they are recommending? Their assets may not be the same as yours, but they should be using many of the same vehicles they are recommending. If not, why not?
Fourth, sometimes financial plans fail because all the advisors were not on your team working together. This is imperative to ensuring financial and estate planning that will be beneficial for the next generation. Your attorney, CPA, investment and life insurance advisors should work together to build your plan. I recommend bringing them together early in the planning process.
Finally, understand the difference between two standards of care -fiduciary and suitability. Some firms hold to the highest legal standard, fiduciary, which means the advice you receive has your best interests in mind. The suitability standard means the product is suitable for your needs, but it may not be in your best interest. You may choose to do business with an advisor who cannot legally claim the fiduciary standard of care. If so, at least be sure to discuss your needs and interests in depth with the advisor. They should be willing to help you find the right product or another advisor to assist you, even if it means losing some business.
Valentine's Day is right around the corner. You may not be sending your advisor chocolates, but at least be sure they have your highest trust. Remember, without trust cost goes up.
Dawn Franks, CEO of Your Philanthropy offers high touch advising services to families, businesses and foundations to enhance the giving experience and maximize impact. She writes a blog, the YP Journal, at www.your-philanthropy.com . Comments and questions are welcome. Send to info@your-philanthropy.com.