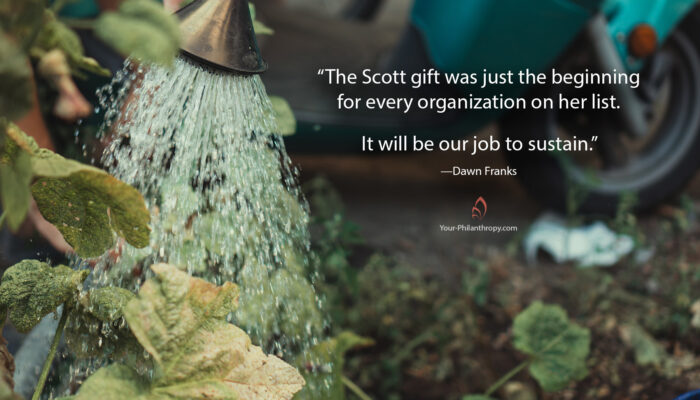 MacKenzie Scott stunned the world last year by distributing 5.9 billion dollars to nonprofit organizations nationwide. Unexpected phone calls from persons working closely with her announced a substantial, unexpected donation, shocking nonprofit executives and board members. One stunned organization was in my community – the East Texas Food Bank.
There were no strings attached unless you count requiring the recipient of the news to keep it confidential from everyone, including their board of directors until Scott made it public. Scott did just that in a post on Medium, an online publishing platform.
Six months after her 2019 divorce from Jeff Bezos, she signed the Giving Pledge, described on the Giving Pledge website as "a commitment by the world's wealthiest individuals and families to dedicate the majority of their wealth to giving back."
How Would We Expect Scott to Tackle the Challenge?
How would she give the majority of her wealth away when the whole was growing at unprecedented rates as Amazon's stock value continued to rise?
She gathered a team and began making phone calls learning from field experts, funders and experienced leaders working and making a difference.
In Scott's own words, they used a "data-driven approach to identify organizations with strong leadership teams and results, with special attention to those operating in communities facing high measures of racial inequity, high local poverty rates, and low access to philanthropic capital."
The East Texas Food Bank announced on December 19 they were selected by Scott and her team as a recipient of a mega gift that will have an outsized impact on hunger in East Texas.
What I Know About Scott's Style
I have never met Scott, but I surmise from all I've read she takes the responsibility of giving seriously. She seeks information, recognizes the importance of leadership at executive and board levels, and makes time to learn about the issues she cares about before giving.
Starting with a list of 6,490 organizations, they took a deep dive into 822 and came up with a list of 384 nonprofit recipients. Scott is not peering through rose-colored glasses. She says in the Medium post, "We'll never eliminate every risk through our analysis, but we'll eliminate many. Then we can select organizations to assist — and get out of their way."
That's why Scott looked for indicators of leadership at each organization – to reduce the risk of squandered philanthropy. Years from now, journalists will investigate and report the good and the bad.
What I Look Forward to Reading About in the Future
I'm interested in the tremendous power of saying to a nonprofit organization you are trusted. Give us your absolute best at making the change – no strings attached. Those are the articles I look forward to reading in the coming years.
What can we learn from Scott's style of philanthropy? How can it make us better at giving, even on a budget?
Scott started by knowing the issues she wanted to impact.
She knows enough about herself to know what style of giving matters for her.
She gathered a team of folks to help her research, access and get dollars out the door quickly.
Scott did not spend several years setting up a private foundation, most often used by billionaires for this level of giving. Scott didn't build buildings to house a foundation and giving programs.
You Can Give Scott Style
We're not that different from MacKenzie Scott.
Identify issues where you want to see change.
Understand your giving style, what I call Giving Fingerprints. Check it out at www.givingfingerprints.com.
Research the issue.
To impact local, understand local—list organizations working on those issues.
Do internet searches and read newspaper articles, organization newsletters and websites.
Check out executive leadership and the board of directors.
Call the organization to learn how to have an immediate impact.
Talk about it with friends and family. That's your team.
If you know about an organization that received a Scott gift, make plans to join in the work. The Scott gift was just the beginning for every organization on her list. It will be our job to sustain.
Where do you want to make an impact? Your issues are just as important. Give the Scott style a try and you too can give like a billionaire.
Like it? Use it. Share it. Comment below.
---
Get in Touch:
Do you have questions or ideas you'd like to discuss? To connect with Dawn directly click here.