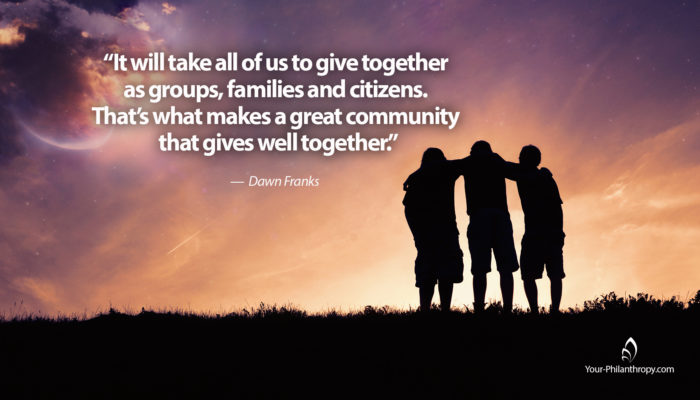 Recently, when reading an e-book circulated by Michael Hyatt, I was struck by the idea of reflecting on the past year as a great start to prepare for the new year. The title was intriguing, "Achieve What Matters in 2017."
The short book listed the expected tasks of making the process more successful: staying positive, setting compelling goals, breaking the goals down, calendaring a plan and being sure to find the time to unplug. But it was the first one on the list that most caught my attention – "Reflect on the past year."
A quick check of articles on the web about New Year's resolutions affirmed my thinking; reflecting on the past is not commonly at the top of the list. It's probably just my personal bias, but I'm always trying to figure out what I learned from an experience that seemed to go differently than expected or completely off the rails.
So, in the spirit of reflection, I reviewed my writing in 2016. I wrote about starting family giving traditions, building a family giving team and making sure your grown-up kids understand your philanthropy.
I repeatedly wrote about identifying healthy nonprofits, understanding the stories and numbers they give us and understanding nonprofit overhead. I even touched on how charity is good for business and how to be smart about international giving.
Styles of giving, philanthropy partnerships that were good for the community and us and learning from giving mistakes were all fodder for my philanthropy ramblings during 2016.
I wondered what I might have left out. What experiences did I have that I just didn't think to share along the way? Three stuck out.
First, we lose people – important people – the kind of people who model giving with their humble spirit and intentional giving styles. We lost Louis Owen this year, described by many as a friend, family man, loyal and humble. He joined with his wife to make an $18 million gift to create the Louis and Peaches Owen Heart Hospital. The gift, made in celebration of 55 years of marriage, serves as an example of Tyler philanthropy at its best. Along the way, Louis and his wife, Peaches, set out to learn and then practice giving with their children and grandchildren through a family foundation.
There is much to learn from Louis, whether a family gives together from a checkbook or a foundation. Be willing to bring all the generations together. Think about that for 2017.
Second, change is inevitable. It certainly doesn't occur when I think it will or with the trajectory I expect. But it does come. In the course of the last two years, the Children's Advocacy Center of Smith County, Parent Services Center and Parent's Anonymous came together to form one organization. In 1996, I predicted that some organizations would merge in the next few years. I mentioned two of these three on my list of possible mergers. It only took 20 years for my great prediction to come true, and it didn't happen at all like I thought it would.
That particular change is good for us as donors, for the families being served and for our community. Smart philanthropy follows smart organizations, and that's what we now have at the Children's Advocacy Center of Smith County.
Finally, kids connect around philanthropy. One recent example of kids coming together is the John Tyler and Robert E. Lee high school drill cheer teams competing to raise money for The Salvation Army. Kids connect around causes today more than ever, with social media at the end of their fingers. Figuring out how to provide them with increased opportunities to connect and unite around good causes is the challenge before us for next year and more to come.
With only a few minutes of looking back, I can clearly see work for 2017. It's going to lead to more than a few thought-provoking, goal-setting moments. It's going to take more than one or two of us to focus on giving in 2017. It will take all of us to give together as groups, families and citizens. That's what makes a great community that gives well together.
Dawn Franks, CEO of Your Philanthropy, offers advising services to families, businesses and foundations to enhance the giving experience and maximize impact. She writes a blog, the YP Journal, at www.your-philanthropy.com . Comments and questions are welcome. Send to info@your-philanthropy.com.