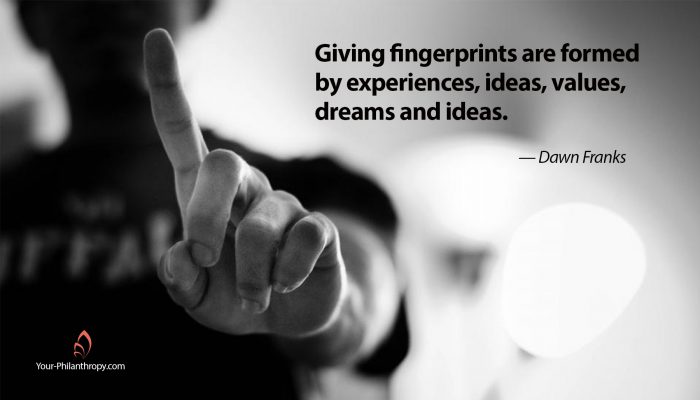 By Dawn Franks, Tyler Morning Telegraph, Give Well Series January 8, 2015
Our fingerprints cannot be erased from the lives of those we have touched. Every time you make a gift of financial resources, time or talent to an organization you impact the life of someone. You leave your giving fingerprints behind. Like the unique arches, loops and whorls found at the end of every finger, your giving choices are just as unique. I call them "your giving fingerprints."
Giving fingerprints are formed by experiences, ideas, values, dreams and ideas. Together they impact where, when and how you give, even whether you do it anonymously or with your name in lights.
I have a lot of fun with an exercise I also call "your giving fingerprints." I've done it with individuals, families, groups, co-workers — and every time I learn something new about how similar, yet differently, we're wired. The exercise takes about an hour from start to finish and leaves participants with a better understanding of the values that drive their giving.
Simply put, your giving fingerprints are how your values relate to your giving decisions. Often we decide where to give without asking if the recipient shares our values.
You seldom make a mistake giving to something well managed, well known or recommended by a friend. But by giving without considering our personal values, we miss an opportunity to experience the joy of giving.
Here's how to find your own giving fingerprints. First, write down a list of the organizations you gave to last year. It doesn't have to be complete, just the five or so that are top of mind. Second, write down how you like to give. Is it by check, bank draft, response to a request, invitation to an event, memorial or honorarium? Do you like to have recognition for your gift or prefer it to be anonymous? Third, search the Internet for a values list. You'll find plenty of sites with a word list. The lists are very similar, usually 400 or so words. Now, while thinking specifically about your financial giving and volunteer time, write down words from the list that feels right. Do it quickly; don't overthink the words.
Finally, pick your top 10 words and prioritize them from most important to least. Compare your top 10 values list to the organization and giving style lists. Are there surprises? Does your giving match your values? How do your values impact your giving style?
Now you have your giving fingerprints. Where you give, how often you give, even the manner in which you give are all a part of your personal giving style. When there is a match between your giving values and your choices, you will come much closer to experiencing the joy of giving.
Here are three real-life examples from the exercise. A young woman in her 20s discovered that her volunteer experiences as a youth and travels during college impacted her volunteer and giving decisions. After clarifying her giving values, she was able to identify the kind of organizations she wanted to support with her limited financial resources and volunteer time.
A family identified their individual giving values and found the overlaps. The shared values pointed them toward an organization they all cared about. The discussion was revealing; parents and children alike were surprised at what they learned from each other. The exercise brought the family closer together.
A business owner invited me to meet with a group of employees and explore their company giving fingerprints, first individually, and then combined. After exploring differences and similarities, they identified an organization to support with a variety of company resources. A company project for an organization that matched their shared values grew out of the experience.
A family foundation used the exercise to focus their grant-making and write a mission statement.
The beginning of the year is the perfect time to explore your giving fingerprints. I encourage you to do it with a small group of friends, family or co-workers. There is much to learn from the discussion that will follow. Contact me if you'd like to learn more about the exercise.
Dawn Franks, CEO of Your Philanthropy, offers high-touch advising services to families, businesses and foundations to enhance the giving experience and maximize impact. She writes a blog, the YP Journal, at www.your-philanthropy.com . Comments and questions are welcome. Send to info@your-philanthropy.com.